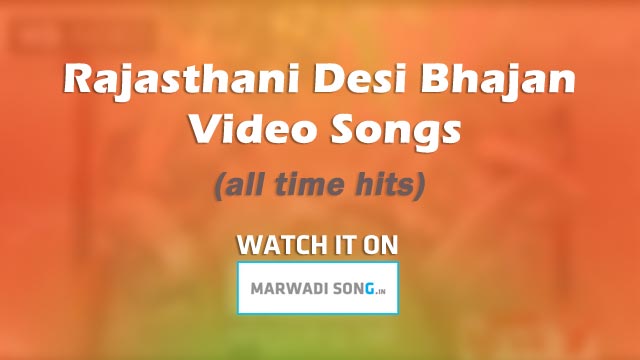 Here, we are going to share the exclusive Marwadi desi bhajan videos of
All Time Hit Rajasthani songs
. These
Rajasthani Lok bhajans
are so popular amongst the audience and they prefer to listen to mp3 bhajan regularly. Without wasting your time, let's enjoy the traditional
bhajan
songs of Rajasthan with MARWADISONG.IN.
Bhai Bhai Re Khatu Ka Raja
If you highly want to enjoy desi bhajan of the region, then it is the best song of Rajasthan. This song was a devotional song of Khatu Shyam ji sung by Sohan Singh. This song music use the folk instruments and the bhajan video is full of Rajasthani desi dance. Every second you will enjoy the song. This song is released on Alfa Music. Hit the play button right now.
Jhula Jhula: Sawan Ri Ramjhol
Sawan Ri Ramjhol Hemraj Saini Bhajan is a biggest hit of Rajasthani desi bhajan music. It was the one of the song which created the history in the Rajasthan for highest selling of audio cassettes and CDs. Hemraj Saini's Jhula Jhula song is a Krishan Bhajan and it was the debut song of Hemraj Saini. Enjoy the bhajan video by hitting the play button.
Sun Tejaji Re
Sun Tejaji Re is a well-known song in Rajasthani for a couple of years. It was a blast for Rajasthani desi song listeners because of its dj remix beats. It was appreciated all over the Rajasthan.
Rupalo Mindariyo Tharo Sovano
This Rupalo Mindariyo Tharo Sovano bhajan is in the voice of Sawari Bai, who is the best singer of this genre of bhajan songs. She sang a great number of songs in devotional category and she is always appreciated by everyone. This is a Jal Devi Mata Marwadi desi bhajan 2014. Watch it.
Reengas Mein Bheru Ji Tharo Devro by Rajan Sharma
Reengas Mein Bheru Ji is what a beautiful song of deity Bheru Ji. It is a song which is known for its traditional instruments used in the song. It music makes us so enjoyful. Let's enjoy the song in the voice of Rajan Sharma.
Dhol Re Nagara Neeka Taal Mein
This Rajasthani bhajan desi song Dhol Re Nagara Neeka Taal Mein Bajao Re Tejo Babo Awalo is a fantastic song. Again this song is a big hit in the region as a traditional desi bhajan of rajasthan. Find the best Rajasthani desi bhajan video here at www marvadi video songs com
Khamma Khamma Baba Ramdev
It is the oldest Rajasthani lok bhajan which has become an evergreen bhajan of Rajasthan for deity Ramdev ji. This marwari bhajan is so popular all over the Rajasthan region. You can also get desi bhajan lyrics here of the song.
Keep visiting MARWADISONG.IN for latest Rajasthani video songs. If you like the bhajan songs then please share it on Facebook.